Introduction
JASCO Vials and Septa
JASCO Vials and Septa are designed and manufactured for high reliability and high performance for HPLC, SFC, GC, LC/MS and SFC/MS applications.
Lower the risk of contamination, so that you can avoid remeasurement or complicated analysis with the reasonable cost.
Usability
A wide opening vial makes sample insertion and collection easy. Since the glass vial is labeled, you can make notes such as the sample name.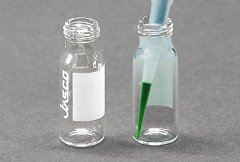 High Quality
These vials, septa and caps have been certified as high quality products by inspection agency. The cap with ultra clean septum is recommended for high sensitivity measurements.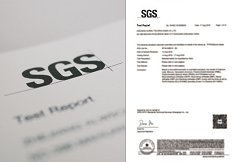 Practical Flexibility
You can choose the vial according to the sample type and volume. Glass insert vial have a polyspring. Septum can be selected without slit or with slit.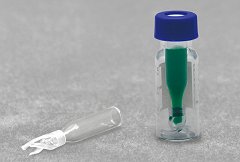 Low Cost
The affordable prices keep your lab's running costs down.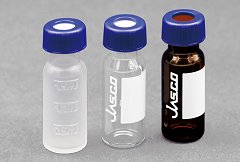 Convenience
It is a widely used size (12 × 32 mm) in LC and GC, so that it can be used regardless of instrument manufacturer. A septum is preset in the cap.
JASCO provides various vials for chromatography applications.
Please try out JASCO Vials and Septa.
Vials
Part Number
0410-0167
0410-0168
0410-0169
0410-0170
0410-0171
Description
Screw Thread Vial,
2 mL, Clear Glass
(100 pcs/pk)
Screw Thread Vial,
2 mL, Amber Glass
(100 pcs/pk)
Screw Thread Vial,
0.3 mL, PP
(100 pcs/pk)
Screw Thread Vial,
2 mL, PP
(100 pcs/pk)
Micro Insert Vial, Clear Glass,
Conical Base with Polyspring
(100 pcs/pk)
Overview
Specification
Material
9-425
with Label
Glass
9-425
with Label
Glass
9-425
Insert type
PP
9-425
with Scale
PP
Outer diameter: 6 mm
Glass
Septa
Part Number
0402-0093
0402-0094
0402-0095
0402-0099
0402-0100
Description
Open Top
Screw Cap with
PTFE/Silicone Septa
(100 pcs/pk)
Open Top
Screw Cap with
PTFE/Silicone Septa
(Pre-Slit, 100 pcs/pk)
Open Top
Screw Cap with
PTFE/Silicone Septa
(Ultra Clean, 100 pcs/pk)
PTFE/Silicone Septa
(100 pcs/pk)
PTFE/Silicone Septa
(100 pcs/pk)
Overview
Specification
Material
9-425
without slit
White silicone/Red PTFE
9-425
with slit
Red silicone/White PTFE
9-425
without slit
Red silicone/White PTFE
Outer diameter: 9 mm
without slit
White silicone/Red PTFE
Outer diameter: 9 mm
with slit
Red silicone/White PTFE