Introduction
Acetaminophen (Paracetamol), anhydrous caffeine, hesperidin, ethenzamide, tipepidine hibenzate and apronalide are known as active ingredients of cold or sinus medicines. Acetaminophen has antipyretic and analgesic effects. Anhydrous caffeine increases the analgesic effect. Hesperidin improves blood circulation and has an antiallergenic effect. Ethenzamide has antipyretic, analgesic and antiphlogistic effects. Tipepidine hibenzate has antitussive and expectorant effects. Apronalide has analgesic and hypnotic effects.
The active ingredients contained in cold and sinus medicines were analyzed by UHPLC with PDA detection, which enables ultra-high speed data acquisition at the rate of 100 spectra/sec.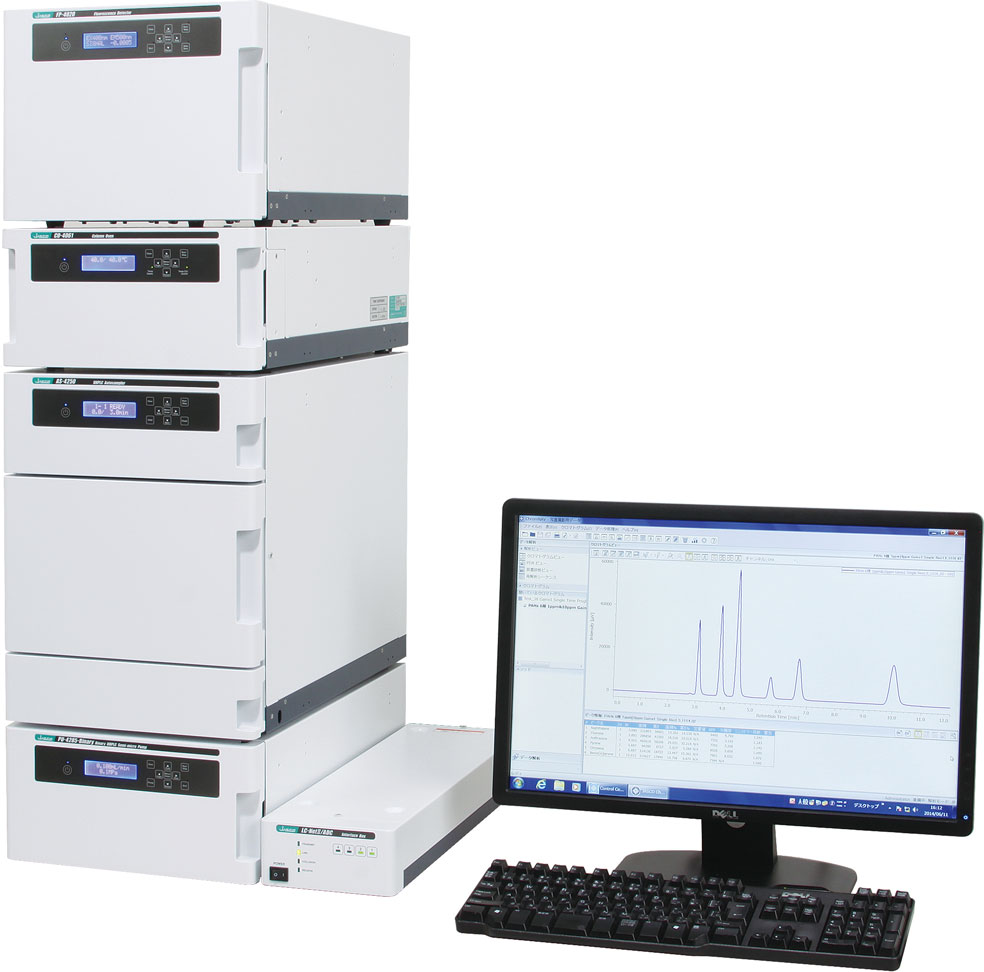 LC-4000 UHPLC system
Experimental
Chromatographic conditions
Column:   ZORBAX SB-C18 (3.0 mmID x 50 mmL, 1.8 µm)
Eluent:   A; 0.1% Phosphoric acid, B; Acetonitrile
Gradient condition:  (A/B), 0 min(20/80) -> 1.4 min(50/50) -> 2.0min(50/50) -> 2.05 min(20/80), 1 cycle; 4.5 min
Flow rate:   0.8 mL/min
Column temp.:   40ºC
Wavelength:   200-400 nm
Injection volume:   1 µL
Standard sample:  Acetaminophen, Caffeine, Phenol (I.S.), Ethenzamide, Hesperidin, Tipepidine Hibenzate 0.02mg/mL each,  Apronalide 0.1mg/mL
Results
Figure 1 shows the chromatogram and contour plot of active ingredients contained in a cold and sinus medicine. Seven active ingredients and phenol added as internal standard(I.S.) are clearly separated within 1.5 min.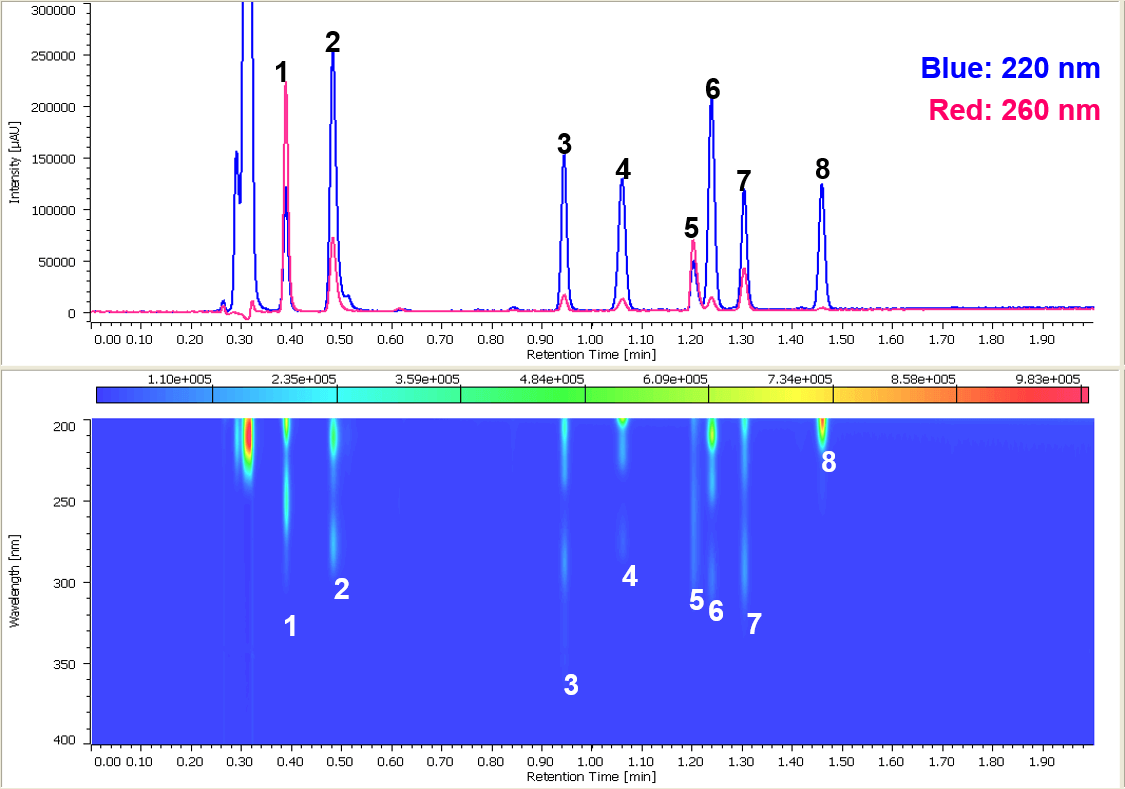 Figure 1. Chromatogram of the Active Ingredients contained in Cold and Sinus medicines. (1: Acetaminophen, 2: Caffeine, 3: Hesperidin, 4: Phenol(I.S.), 5: Hibenzicacid, 6: Ethenzamide, 7: Tipepidine, 8: Apronalide.)
Figure 2 shows the on peak spectra of active ingredients contained in a cold and sinus medicine. Good spectrum was obtained for each component.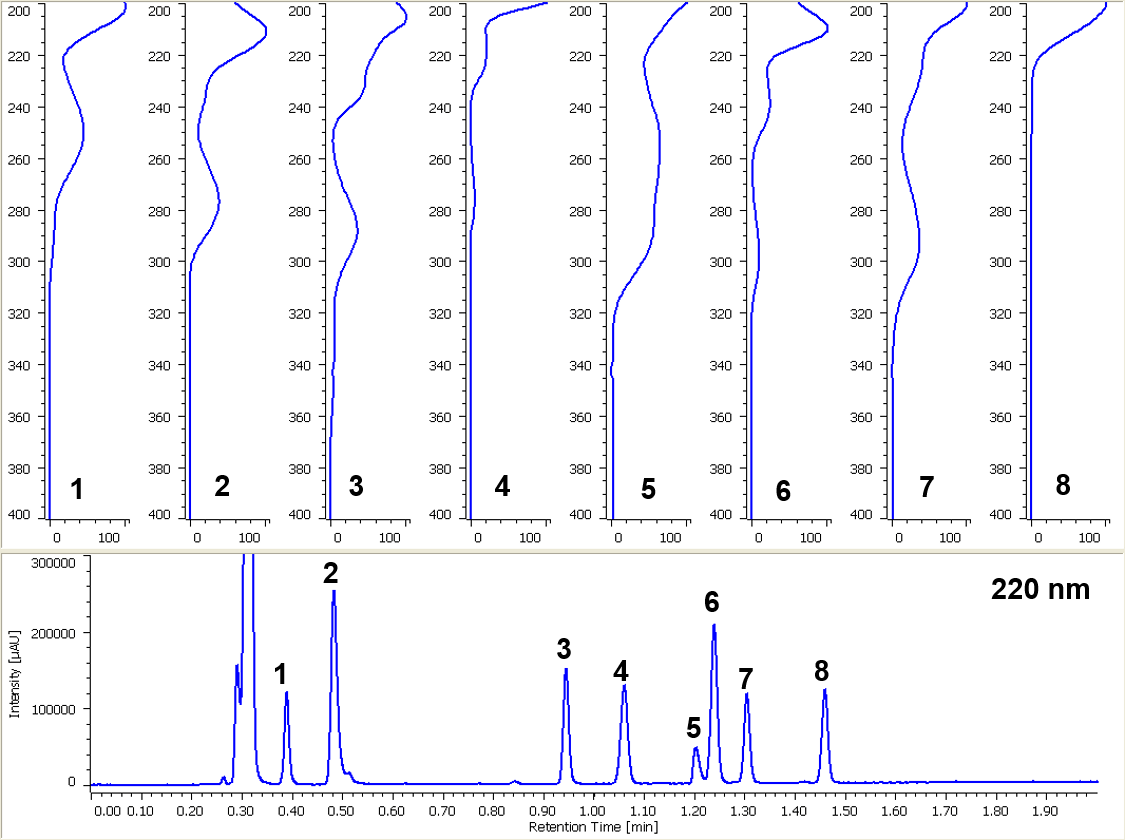 Figure 2. On peak Spectra of the Active Ingredients contained in a cold and sinus medicine. (1: Acetaminophen, 2: Caffeine, 3: Hesperidin, 4: Phenol(I.S.), 5: Hibenzicacid, 6: Ethenzamide, 7: Tipepidine, 8: Apronalide.)