Introduction
Vitamins are essential nutrients to all living organisms and are organic compounds required in small amounts for healthy physiological activity. The class of fat-soluble vitamins is insoluble in water but readily dissolve in oil and thus when consumed in excess may have a detrimental impact on the human body, as they are difficult to excrete.
This application note describes the analysis of fat-soluble vitamins using UHPLC and PDA detection with a high speed data sampling rate of 100 spectra/sec.
LC-4000 UHPLC system
Experimental
Chromatographic conditions
Column: ZORBAX SB-C18 (3.0 mmID x 50 mmL, 1.8 µm)
Eluent: Acetonitrile/Methanol (70/30)
Flow Rate: 0.8 mL/min
Column Temp.: 30 ºC
Wave Length: 200-500 nm
Injection Volume: 1 µL
Standard Sample: 10 fat-soluble vitamin standards
Keywords
UHPLC, Fat-soluble vitamin, Vitamin K3, Vitamin A, Retinol acetate, Vitamin K2, d-tocopherol, Vitamin D2, Vitamin D3, a-tocopherol, Tocopherol-a-acetate, Vitamin K1, C18 Column, PDA detector
Results
A contour plot and chromatogram of the fat-soluble vitamin standard mixture are shown in Figure 1. Excellent separation of the 10 vitamins was obtained in under 4 minutes.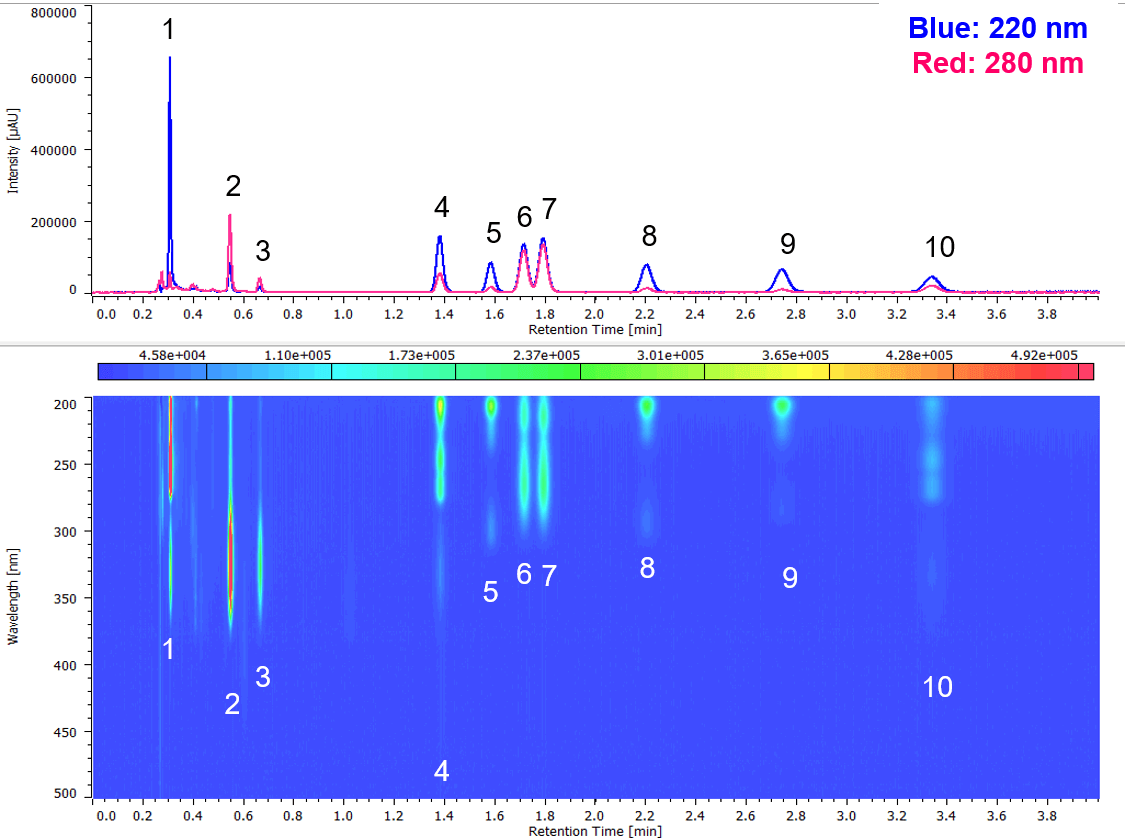 Figure 1. Chromatogram of Fat-soluble Vitamin Standard Mixture (1:  Vitamin K3 (Menadione), 2:  Vitamin A (Retinol), 3:  Vitamin A acetate (Retinol acetate), 4:  Vitamin K2 (Menaquinone), 5:  Vitamin E (δ-Tocopherol), 6:  Vitamin D2 (Ergocalciferol), 7:  Vitamin D3 (Cholecalciferol), 8:  Vitamin E (α-Tocopherol), 9:  Vitamin E acetate (α-Tocopherol acetate), 10:  Vitamin K1 (Phytonadione), (0.1 mg/mL each))
The on-peak spectra of fat-soluble vitamin standard mixture are shown in Figure 2.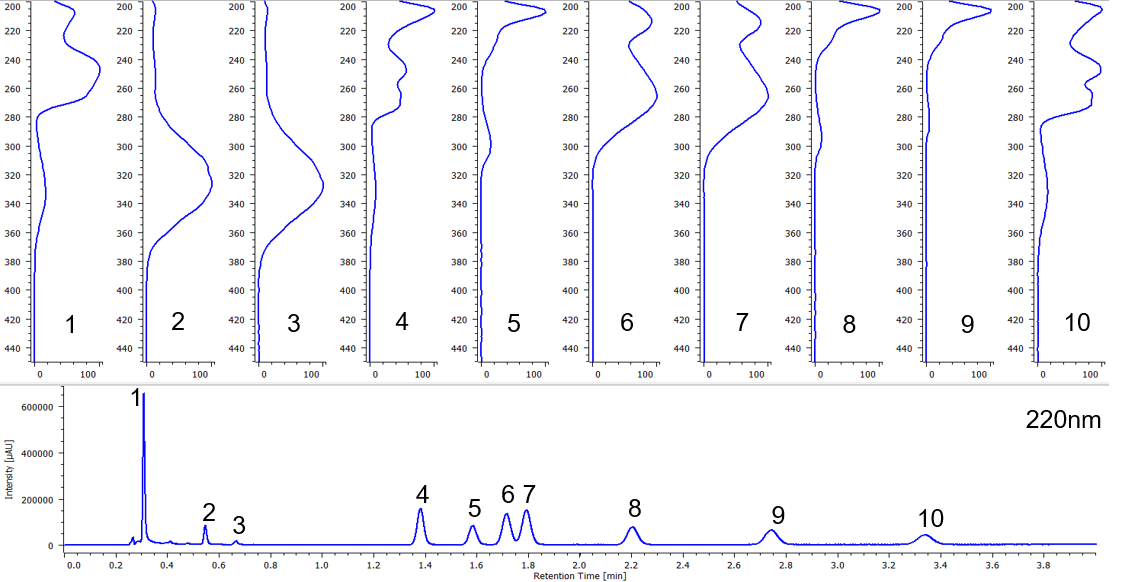 Figure 2. On-peak Spectra of Fat-soluble Vitamin Standard Mixture (1:  Vitamin K3 (Menadione), 2:  Vitamin A (Retinol), 3:  Vitamin A acetate (Retinol acetate), 4:  Vitamin K2 (Menaquinone), 5:  Vitamin E (δ-Tocopherol), 6:  Vitamin D2 (Ergocalciferol), 7:  Vitamin D3 (Cholecalciferol), 8:  Vitamin E (α-Tocopherol), 9:  Vitamin E acetate   (α-Tocopherol acetate), 10:  Vitamin K1 (Phytonadione),   (0.1 mg/mL each))