JASCO is proud to offer unrivaled, class-leading performance in FTIR spectroscopy, using the best in materials and electronics technology available today.
FT/IR-4000/6000 series offers reliable operation with industry-leading sensitivity and the most advanced technology available today. Its instrument features are as below;
Stable Interferometer
Excellent S/N Ratio
High Sensitivity Detectors
Wavenumber Extension
Vibration-Free Optical Bench
Moisture Protection
GxP/FDA 21 CFR Part 11 Compliant
The VIR Series portable FTIR spectrometer is compact, lightweight and versatile. The collimated entrance and exit ports make it an ideal instrument for a wide range of user-designed experiments. The instrument features of VIR series are as below;
45 deg Michelson sealed interferometer with KRS-5 windows and gold coated light weight corner cube mirrors
DLaTGS detector (standard) MCT and InGaAs (Options)
'Antivibration learning system' for the moving mirror for industrial environments
Accessories for ATR, Transmission and Diffuse or Specular Reflectance
Customizable for in-situ measurements in factory or field locations
Multiple configuration of up to three accessories on one spectrometer with external connection optics
Universal optical base allowing users to build customized systems
Eco-friendly system including sleep-mode as well as a compact & space-saving design
Comprehensive self-diagnostics & validation
USB connection with Spectra Manger™ Suite PC control and analysis
---
FTIR Spectrometers Lineup
FT/IR-4600 FTIR Spectrometer
FT/IR-4600/4700 FTIR Spectrometers
The 45 degree Michelson interferometer with corner-cube mirrors used in the FT/IR-4000 series provides class-leading performance normally found in research-grade spectrometers. Designed principally for use in the mid-IR region it can also be used for dedicated near- and far-IR applications. The rigid cast-aluminum construction, coupled with advanced optical and electrical components, provide performance and durability. The FT/IR-4000 Series also has many options for other measurements, from simple transmission and gas analysis to diffuse and specular reflectance. The FT/IR-4000 is well suited to QA/QC, teaching and simple research. With 0.4 cm-1 resolution the FT/IR-4700 can be used for higher resolution gas analysis.
Specifications – FT/IR-4600/4700 –
| | | |
| --- | --- | --- |
| | FT/IR-4600 | FT/IR-4700 |
| Maximum Resolution | 0.7 cm-1 | 0.4 cm-1 |
| S/N Ratio | 25,000:1 | 35,000:1 |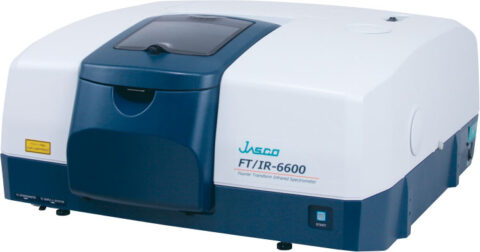 FT/IR-6600 FTIR Spectrometer
FT/IR-6600/6700/6800 FTIR Spectrometers
The FT/IR-6000 Series of research-grade spectrometers offers a highly configurable optical system applicable to virtually any FTIR application, from simple mid-IR measurement to more complex analysis in the farthest reaches of the electromagnetic spectrum. With three levels of optical configurations, research-based measurements are easily performed on the FT/IR-6000 Series with options such as full-vacuum, gold-coated optics, rapid & step-scan and FT-Raman for more advanced experiments.
Specifications – FT/IR-6600/6700/6800 –
| | | | |
| --- | --- | --- | --- |
| | FT/IR-6600 | FT/IR-6700 | FT/IR-6800 |
| Maximum Resolution | 0.4 cm-1 | 0.25 cm-1 | 0.07 cm-1 |
| S/N Ratio | 45,000:1 | 47,000:1 | 55,000:1 |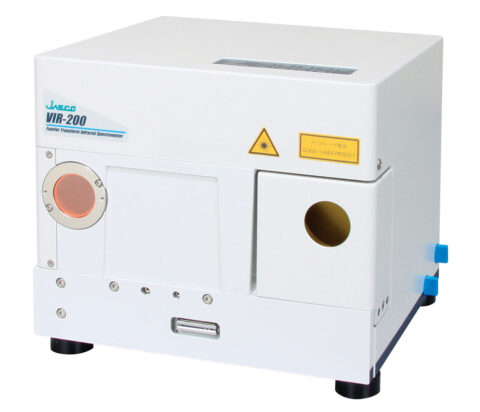 VIR-200 Versatile FTIR spectrometer
VIR-100 General Purpose Mid IR Spectrometer
General-purpose Mid-IR Spectrometer
Spectral Range: 7,800 – 350 cm-1
Resolution: 0.9 – 16 cm-1
S/N ratio: 18,000:1 (DLaTGS)
VIR-200 High resolution Mid-IR Spectrometer
High resolution and advanced anti-vibration technology
Maximum resolution for both solids and gases
Maximum resolution 0.4 – 16 cm-1
Spectral range: 7,800 – 350 cm-1
S/N ratio: 22,000:1 (DLaTGS)
VIR-300 NIR Spectrometer
NIR interferometer for a wide range of near-infrared applications.
Optional sampling systems include a fiber optic interface with sample probes and a range of diffuse reflectance accessories for quality control applications
NIR configuration with CaF2 beam splitter and halogen light source
Spectral range: 15,000 – 2,200 cm-1
Maximum resolution: 0.4 – 16 cm-1