Chiroptical spectroscopy has become one of the most important techniques for the characterization of biomolecules, determination of absolute configuration and stereochemical analysis. Since launching our first spectropolarimeter in 1961, JASCO has designed and built the finest in chiroptical instrumentation.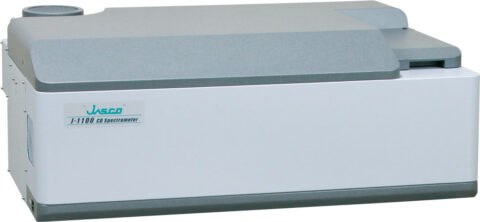 J-1100 CD spectrometer
J-1000 Series Circular Dichroism (CD) spectrometers are specifically designed for high sensitivity measurements in the near- and far-UV regions, for scientists that need confidence in the data from characterization studies of biomolecule structure, function and stability under a wide variety of experimental conditions. Its instrument features are as below;
High optical throughput
Highest signal-to-noise ratio
Double prism monochromator providing low stray light
Wide dynamic range PMT detector
Highly efficient nitrogen purge system
Digital signal processing
Simultaneous Multi-Probe: CD, LD, HT, DC, absorbance, fluorescence
FVS-6000 is capable of measuring conventional IR Absorption along with Vibrational CD and is controlled by the Spectra Manager™ II spectroscopy software suite. Its instrument features are as below;
Digital Signal Processing (DSP) to enhance sensitivity
Thermally stabilized modulator system to eliminate baseline drift
Extra large dewar to allow up to 15 hours of operation without refill
Auto-alignment system to eliminate linear anisotropy artifacts
High-intensity ceramic light source for maximum energy and lifetime up to 10 years
CPL-300 circularly polarized luminescence (CPL) spectrophotometer is designed to supplement other chiroptical techniques like circular dichroism, providing chiral information of the excited state properties. Its instrument features are as below;
Double-prism monochromator
Low stray light, no second-order radiation and no Wood's anomalies
180° sample geometry with unpolarized excitation light
Samples with different transition moments for absorption and fluorescence, that do not become depolarized, can be measured
Excitation (Ex) and emission (Em) monochromators
Selectable Ex wavelength and Em spectral bandwidth
High-throughput optical system and highly sensitive PMT
Increased fluorescence sensitivity
Data collection and processing
Simultaneous measurements of CPL and fluorescence intensity
One-click data conversion to ΔI and glum
---
CD Spectrometers Lineup
J-1100 CD spectrometer
J-1100 CD spectrophotometer is a compact, general-purpose space-saving design. This simple yet powerful instrument is perfect for users looking to obtain more routine CD measurements in both industry and academia.
Wavelength range: 180 – 600 nm
J-1500 CD spectrometer
J-1500 allows for the maximum flexibility to upgrade your CD system with different measurement techniques. While the standard measurement modes are CD, LD, and absorbance, up to four simultaneous modes can be measured when combined with a wide range of sampling accessories.
Wavelength range: 163 – 950 nm (up to 1600 nm as option)

J-1500 CD spectrometer
J-1700 CD spectrometer
J-1700 was specifically designed for more demanding near-infrared CD applications. In addition to the enhanced far-UV capabilities, researchers probing the chiral activity of molecules in the NIR spectral region now have the ability to obtain data at wavelengths up to 2500 nm.

J-1700 CD spectrometer
High-Throughput Circular Dichroism System (HTCD Plus)
The high-throughput circular dichroism (HTCD Plus) measurement system has been developed for use with either the J-1500 or J-1700 CD spectropolarimeter. This system can accommodate two 96-well plates (up to 192 samples) with protection at controlled temperature prior to measurement.
Applications include peptides, proteins, nucleic acids, chiral organic components, monoclonal antibodies etc.
Micro-plate temperature control
Automated measurements with Spectra Manager-HTCD software; easily generated measurement sequences, including wavelength scan and temperature scan modes
Automated data processing

HTCD system
FVS-6000 VCD spectrometer
Since the VCD signals in the infrared region are typically one or more orders of magnitude lower than ECD signals in the UV-Visible region, high sensitivity and stability are especially important for a VCD spectrometer. FVS-6000 provides accurate and highly sensitive measurement in the fingerprint region.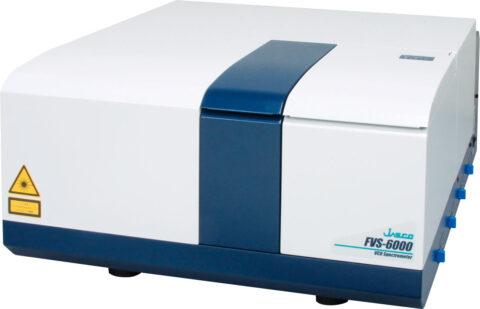 FVS-6000 VCD spectrometer
CPL-300 CPL spectrometer
The CPL-300 uses the original 180° fluorescence collection approach proposed by Steinberg. The standard ozone-free 150W Xe lamp can be user-replaced with an Hg/Xe source. The instrument's doubleprism excitation and emission monochromator delivers very low stray light and no spurious linear polarization effects caused by diffraction gratings.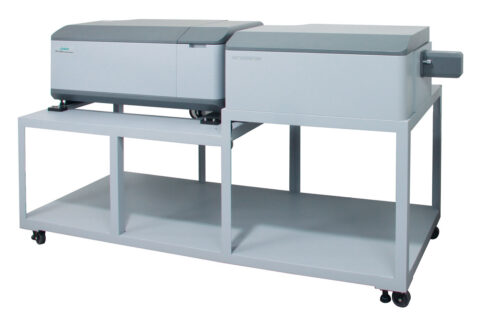 CPL-300 CPL spectrometer